A connecting rod, also called a con rod, is the part of the piston engine which connects the piston to the crankshaft. The connecting rod converts the reciprocating motion of the piston into the rotation of the crankshaft.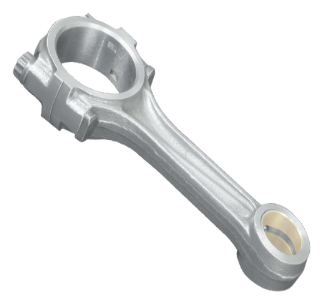 In the process of operating - exploiting the engine, due to the effect of burning gas forces of value and direction always change is cyclical and bearing fictitious forces of forward motion and winding motion of itself. The bad contact of the bearing and the rotating bearing has caused some damage to the connecting rod as:
- The connecting rod is warped, twisted, cracked. Crack is often occur bolt and piston pin holes or connections between big bearing and connecting rod.
- Wearing mounting holes big bearing of connecting rod
 When encountering these damaged issues, the first, we must check the damage of connecting rod by using a specialized test method. After identifying the damage, we can use repair methods such as: Flexing the connecting rod with specialized fixtures, repairing big and small bearing of connecting rod. In cases where irreparable damage is required, another connecting rod should be replaced. In this replacement customers may choose one of the following options:
1. Replace genuine connecting rod from the manufacturer's marker, this option is sure but the price when buying a new one is quite high, not suitable to replace the old engine.
2. Replace OEM connecting rod, manufactured in Korea, has full registry in accordance with required standards. OEM replacements will be more reasonable price
3. To save money further, customers can also use the same connecting rod and used models instead, but the longevity may not be high.
To be able to choose the suitable plan with expenses, as well as the right supplies for the engine, please contact us to receive the best advice and support. With many years of experience in supplying, repairing and replacing ship engine parts, we have been working with many Vietnamese ship owners such as:
- Supply spare parts for MAK 7M43C main engine (oil scraper ring, compression ring, fire ring, fuel injector) for M/V TRUONG HAI STAR 3
- Supply spare parts for YANMAR 6N21A-SV main engine
- Supply spare parts for HITACHI B&W 6L50MC main engine for M/V PACIFIC GRACE,...
Sincerely,
Orient Technical Marine Co., Ltd